Welcome back. We are continuing our journey through Mid-Century design's most influential chairs, their designers, and their lasting touch on interior design today. If you are seeing this blog first, meander over to the initial blo
g at this link.
We value art of all forms — sculpture, mural, architecture, furniture, etc. — not only for aesthetics but for the story every piece holds. Take a moment and look around your home, or flip through your favorite interior design magazine. Every piece of decor underwent an intense process of design and holds a rich amount of history. Consider how many designers throughout history influenced the design of a "simple" barstool, armchair, or ottoman.
Tapping into this idea, let's explore the most influential mid-century chairs and their original designers. The following five designers have influenced modern furniture for decades following the inception of each of their designs. As always, if this blog leaves you feeling inspired, reach out!

Let's continue the conversation

.
One of the most telling stories of Arne Jacobson's design preference is when he was a child, he secretly painted the brightly colored wallpaper in his family's Victorian-style home white! As he developed his craft as a furniture designer, his preference for simplicity and overall functionality is clear as day. Jacobson designed the Egg chair while commissioned as the lead architect for the Royal Hotel in Copenhagen. The original Egg chair was featured in the lobby and reception areas of the hotel.
Marcel Lajos Breuer was a Hungarian-born modernist, architect, and furniture designer who's known as being one of the "masters of Modernism". Breuer was born in 1902 and began his career at the famous

Staatliches Bauhaus

, a German school of applied arts, architecture, and design. The Bauhaus was the most influential art school throughout the 20th century, its core objective was a radical concept: to reimagine the material world to reflect the unity of all the arts. While studying at the

Bauhaus

, Breuer "revolutionized the modern vocabulary with his tubular-steel furniture".
The Cesca Chair was originally design and manufactured in 1928, inspired by the steel frame of Breuer's Adler bike! The smooth, yet sturdy frame of his bicycle inspired the chair's tubular shape — he experimented with hollow metal for an optimal balance of strength and lightness.
Eero Saarinen was a Finnish-American architect and industrial designer, and a pioneer bringing in elements of exploration and experimentation to American architectural design during the 1950s. Known for his neo-futuristic style, he brought form and function together in unique ways capturing "

an era of technology, of futurism, and of optimism

."
Saarinen's Womb Chair was designed shortly after joining Knoll Associates, with the inspiration of comforting those who sat in the chair with the security of the womb. Saarinen was quoted, "There seemed to be a need for a large and really comfortable chair to take the place of the old overstuffed chair. Today, more than ever before, we need to relax."
But does it live up to its name? Collier Sutter of Architectural Digest performed "sit tests" on multiple legendary modern chair designs and reported:
It was not designed to be stuffed to the brim with cushions, but has its comfort components in its structure: The organic shapes stem from the designer's belief that a chair should be flexible to accommodate any type of sitting posture. Plus, the indented armrests sit parallel to the floor and at the perfect height for lounging. Take a seat, and you'll wonder why all lounge chairs don't follow suit with said genius armrest placement.
The Panton Chair was not an immediate success by Danish designer Verner Panton. The dramatic contoured plastic that Panton envisioned was almost impossible to construct with the limits of plastics at the time. When the first models were eventually produced by Willi Fehlbaum, the founder of Vitra, the chairs proved to be flimsy, breaking within a few years of use. Production was discontinued in 1979, only to be picked up again in 1990, now constructed of polypropylene. Durable enough now to cherish for decades into the future!
In 1963, when flowing shapes and functionality were blooming in furniture design, Has Wagner designed a chair that was futuristic, comfortable, and affordable for the everyday "Joe." Typical of Wagner's designs, he pushed materials and manufacturing technologies to their limits, producing the Shell Chair with "form
ed laminated veneer." The seat's curved shape gave it the
nickname
the "Smiley Chair."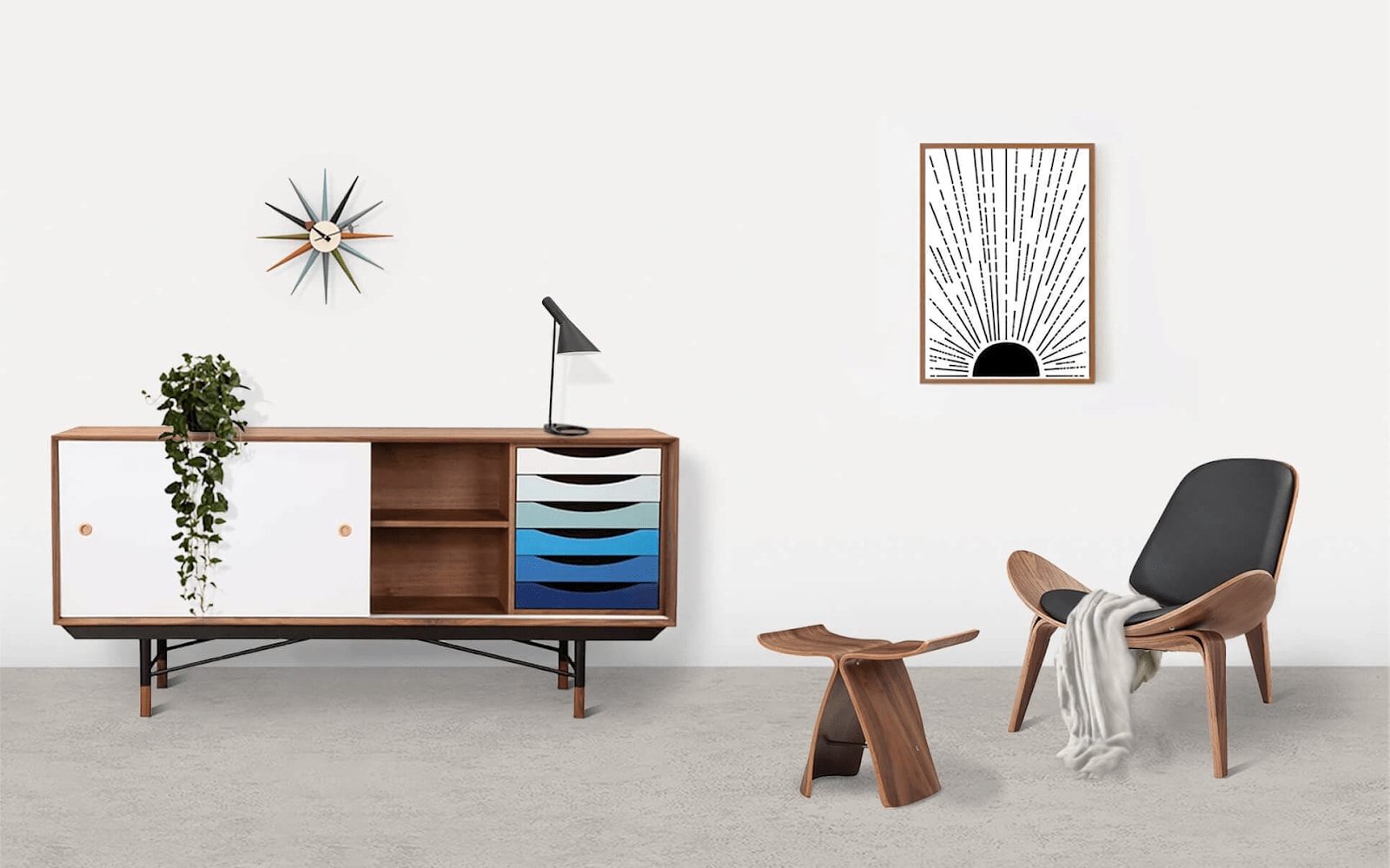 ---
If you are eager for more, browse my curated list of chairs (from both installments of the blog), all available at Portland's own

Hive Modern

!
Hive Modern's showroom is like no other! But, for those who like to browse from the couch first, Hive Modern's website brings "rare, unusual, and time-tested icons of design directly to your front door. Our manifesto is really quite simple: to share the joys of Good Design while providing value and excellence in service to our patrons." The compan
y values hiring craftspeople with generations worth of skill in production and living wages for every employee.
Historically Significant Modern Chairs — Available at Hive Modern