Date
: Saturday, July 16th, 2022
Time
: 10:00 AM – 2:00 PM PST
Location
: Multiple Portland Locations (provided with ticket purchase).
Tickets
: $30 for one, $50 for two, and $10 for children 10+.
Purchase tickets
here
!
The
Modern Architecture and Design Society
has planned one of the most exciting landscape architecture events of the year! The
Portland Landscape Architecture and Design Tour
will be an opportunity to view remarkable PNW landscapes and meet the designers themselves.
This is a self-guided tour through a selection of inspiring outdoor residential spaces. The homes may be visited in any order and at your own pace, joined by like-minded fans of outdoor living!
How It Works
Purchase your tickets here. 48 hours before the event, you will receive a printable PDF map and links to an interactive mobile map of the properties. Day-of, tour homes at your own pace between 10:00-2:00 PST.

Organizers have announced, in case of rain, the tour will be rescheduled for the following weekend (Saturday, July 23rd). Because you will be touring private homes with pools and other features that may not be child-friendly, organizers kindly request that Tourgoers be at least 10 years of age, save for "babes in arms."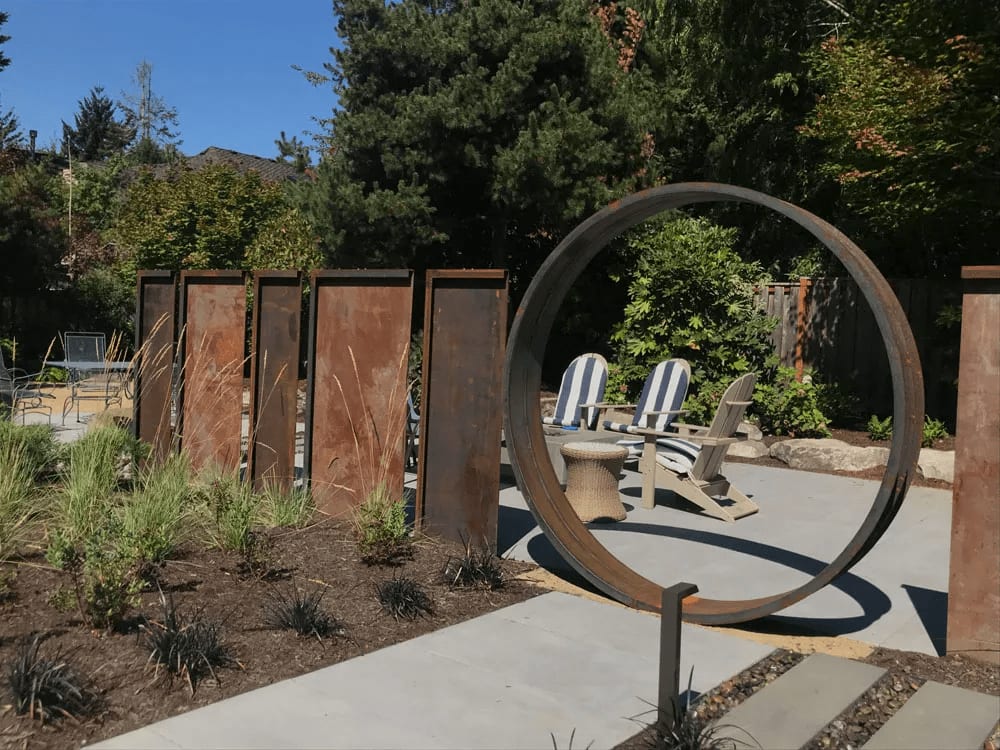 Find featured designers and landscape architecture firms below, with a description of the featured project. Project descriptions provided below are sourced from Mads Media —
more at this link
!
The Glisan Street project transformed an overgrown and underused backyard into a new family retreat. The renovated landscape includes a bluestone carpeted dining room, outdoor grilling and kitchen space, raised beds, eco-lawn, and a generous fire pit lounge anchored by a custom juniper trellis doubling as a screen support for backyard movie nights.

The new garden captures borrowed landscapes of surrounding trees and plants while carving out new living, dining, and lounging spaces within the heart of the property. Upper and lower levels terrace the subtle slope, and a custom juniper trellis backbone anchors the rooms providing separation from neighbors and bringing the area into scale by breaking up the distance to the high house eaves.

A new built-in bluestone kitchen countertop and steel and juniper shelving system extend from the rigid backdrop of the house, and bluestone paving and steps contrast with loose river rock and soft eco-lawn at the ground plane. The coziest corner features a low fire bowl surrounded by comfortable plush seating and hemmed in by grasses, vines, evergreens, and two beautiful specimen dwarf olive trees selected for their slow growth and beautiful silvery foliage.


These clients had matured out of the functions of their large backyard with a pool as the centerpiece. The children who were young when the property was purchased, were now grown and college-age. And the principal form of entertainment was no longer pool parties with kids and dogs chasing and splashing. They wanted a more refined, contemporary space to relax, to dine with a few friends but also to entertain large groups while maintaining privacy.

The pool was partially demolished – the concrete aggregate walks were removed, and the coping and walls of the pool were removed down to 4 feet from grade. The boulders which had been incorporated into the concrete aggregate walk surrounding the pool were broken out and relocated to the new planting beds to form a new retaining wall. An offset path was designed to lead you past plantings, past a series of Cor-Ten screens, and through a contemporary Cor-Ten Moon Gate to a large paver patio that offers ample seating around a gas fire pit. Another smaller, paved dining area was added in the NW corner of the yard with a path connecting to the house and to the larger patio, past a low, bubbling water feature.


GRO was given the opportunity to bring the dreams of these two homeowners to life! We started with design, created renderings of various areas of the property then began construction in early Spring 2022. This home features (3) Bubbler Water features, Synthetic Turf to replace the living lawn, Dog Run, Sauna Pad, and a custom pool, and features three themes of landscape. You are greeted at the entry with NW Modern plantings, as you enter the left side of the side yard you'll transition to a relaxing oasis with a covered patio and be in full resort mode as you enter the back featuring palm trees, and more!


For this home, we looked to the English garden for inspiration with paths leading us to parts of the garden, home and entertaining space, open views, and an abundance of flowers attracting a bounty of pollinators.

We combined modern materials like pavers in an old pattern (herringbone) with colored concrete for the stairs for contrast. We reduced the lawn by 50% and added garden beds filled with plants that require little fuss and even less water that attract pollinators but isn't attractive to deer (for the most part!). The large fountain serves as a water source for the pollinators and adds a soothing sound to the whole space. We recycled existing stepping stones and boulders from an old pond on the property in new ways throughout the design. The entertaining space was enlarged to comfortably host large groups and take advantage of the view while providing privacy.

In the evening the space is artfully lit with strategically placed lights for safety and ambiance while speakers fill the air with music. The gas fire pit extends the use of the space well into the crisper months of the year.

The overall effect is warm, inviting, and comfortable while also considering long-term resources. Reduced lawn size and drought-tolerant plants mean less water use and you have plants that can tolerate the heat. Using a broad selection of plant materials assures you're attracting and sustaining wildlife. Reusing existing materials on-site not only saves money but also resources.


The homeowners are a Portland hospitality power couple and in 2020 they decided to up the ante on their at-home entertaining game. It was goodbye to most of the grass and hello to an oversized dining table with a built-in banquette and vegetable bed.

A central planting bed and shade garden surround the minimalist fire pit, all under the watchful eye of gnarled walnut, fig, and fruit trees. This clean, modern garden is sure to host many wine and vegetable bed-to-table BBQs all summer long.


Description coming soon! Keep an eye out for Olivine Land's project description here.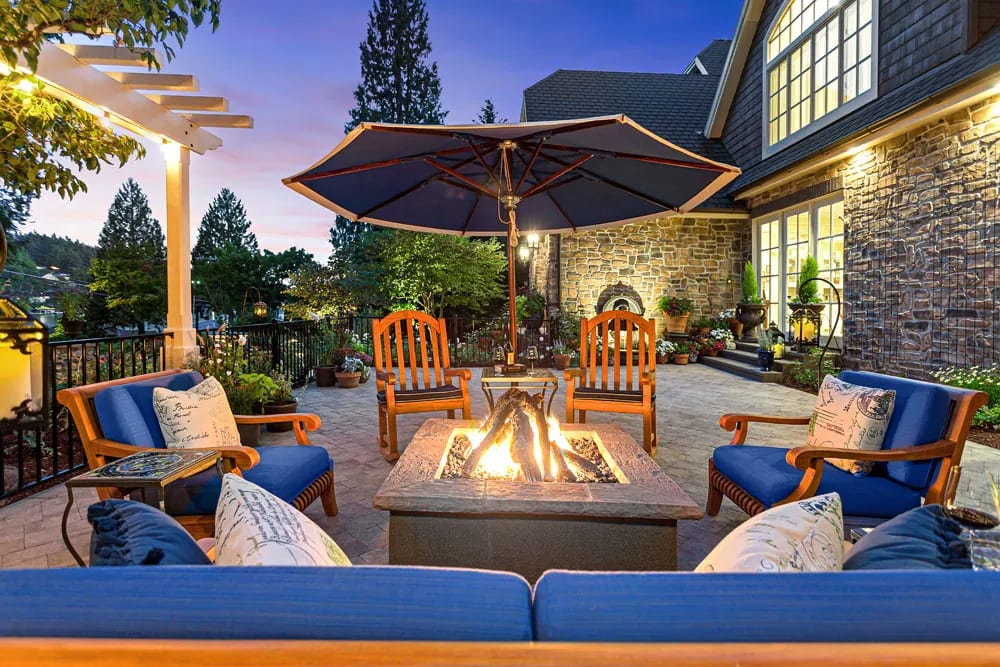 Hope to see you all at the event!


2022 Portland Landscape Architecture and Design Tour
Date
: Saturday, July 16th, 2022
Time
: 10:00 AM – 2:00 PM PST
Location
: Multiple Portland Locations (provided with ticket purchase).
Tickets
: $30 for one, $50 for two, and $10 for children 10+.
Purchase tickets
here
!